 The oldest and the most holy site of Islam in Saudi Arabia is Mecca, and the place is very important for all the Muslims around the world. It is the sacred place where the holy book, Quran, was rev...
20 January ·
0
· 2
·
Faiz

Everyone knows that Saudi Arabia is an oil-rich country. It is also a center to traditional Arab and Islamic society in the Middle East. During the early days, this desert kingdom was very conservativ...
16 November 2022 ·
0
· 5
·
Faiz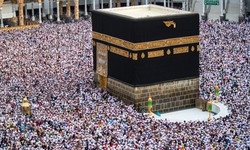 Undeniably, millions of pilgrims travel to Mecca to perform Hajj and Umrah. Mecca is considered as one of the holiest places on earth. The Islamic ritual Umrah and Hajj are very close to Muslims and e...
15 October 2022 ·
0
· 3
·
Faiz