Home Improvement Services Market 2022: Industry Trends & Analysis, Forecast www.digitaljournal.com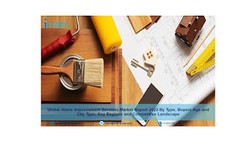 Ivo Smith
1 year ago · 1
The global home improvement services market size reached US$ 321.4 Billion in 2021. Looking forward, IMARC Group expects the market to reach US$ 411.3 Billion by 2027, exhibiting at a CAGR of 3.80% during 2022-2027.
Home improvement services refer to the activities that involve the remodeling, altering, refurbishing and renovation of residential buildings. These services are availed to upgrade the existing interior or exterior and add other improvements to a building. They also aid in enhancing the overall appearance, privacy, and safety of the unit while improving energy efficiency and optimizing space utilization of the house.
Home Improvement Services Industry Trends and Drivers:
The market is primarily driven by the escalating demand for the renovation of residential buildings due to rapid urbanization. At present, home improvement services are widely adopted to remodel newly purchased homes or upgrade existing residential complexes as per the preferences and requirements of the customers.
Get a PDF Sample for more detailed market insights: https://www.imarcgroup.com/home-improvement-services-market/requestsample
In addition, the rising need for energy-efficient and luxurious living spaces represents another major growth-inducing factor. Besides this, the market is further propelled by various technological advancements, including the launch of the Internet of Things (IoT)-integrated home control systems.
Moreover, various service providers are incorporating artificial intelligence-enabled cameras, lighting, audio, and door access systems to provide users with remote access, which is contributing to the market growth.
Furthermore, the implementation of various government initiatives to promote the construction of green buildings and the rising disposable incomes of consumers are some of the other factors anticipated to propel the market growth.
Note: We are regularly tracking the direct effect of COVID-19 on the market, along with the indirect influence of associated industries. These observations will be integrated into the report.