Recently, the temperature is getting higher and higher, and summer is coming in the northern hemisphere. In this hot summer, have you ever considered changing your hair color? Black hair will look monotonous in summer, won't it? If you want to show your vitality in summer, you can try a burgundy wig. The burgundy wig is also one of the most popular color wigs this year. Many women are trying burgundy lace front wigs. Today's blog will introduce you to this wig and recommend different hairstyles and styles of burgundy lace front wigs.
What is burgundy color?
Burgundy is a dark red color, named after the popular Burgundy wine region in France. In color psychology, delicacy is the first word to describe Burgundy. For people who like Burgundy, this indicates that they want to be seen as wealthy and unique. Burgundy red is a popular color. It is a deeper red color, providing a softer, calmer, and more refined feeling.
Who suits burgundy color wigs best?
Burgundy color lace front wigs are suitable for women of any skin color. This color tone will not be abrupt on the heads of women of any skin color, and it will be very charming and fashionable.
Burgundy hair color lace front wigs are very suitable for women who want to change the appearance of their hair and pursue novelty and fashion trends.
Benefits of burgundy lace front wigs
Suitable for spring and summer, with lively colors.
It goes well with any skin color. burgundy is not surprising with any skin color, and it has a unique and charming appearance.
The design of a human hair lace wig can give you a very natural hairline and allow you to create a variety of hairstyles.
Breathability and naturalness are very good, and lace front wigs' hair caps are all soft and breathable materials.
How to style your burgundy lace front wigs?
If you already have a burgundy lace front wig, here are some guidelines on how to straighten or curl your Burgundy lace front wig step by step.
1. Prepare tools
Wig holder, wide-toothed comb, hair straightener, curling iron, thermal protection liquid, and nutritional oil.
2. Put the wigs on the wig rack
You should make sure that your wig is completely dry, which represents a safer and faster shape. Then you must use your wide toothbrush to remove all the tangles from the wig. In this process, you must be gentle to prevent the wig from falling off.
3. Apply thermal protection liquid
You can now apply heat protection liquid to your wig to protect your lace wig, and then you can curl it into any curly hair you like with a curling iron. Please remember to set it to a low temperature to reduce the damage to your hair. If you want a smooth and straight Burgundy lace wig, you can use a hair straightener, which is like curly hair.
4. Do baby hair
Finally, you can make some baby hair, and create natural and fashionable baby hair, which will make your appearance more in line with your needs, either natural or fashionable.
5. Nutritional oil
After all the steps are completed, you can spray some nutritional oil on your wig, which can provide nutrition for your hair and protect your burgundy lace front wigs.
How to maintain your burgundy lace front wigs?
You can use wig-specific shampoo and conditioner.
Minimize long-term exposure of wigs to strong sunlight, such as wearing a hat.
You should not wash your wig often, because it will also cause your wig to fade.
Usually, wash your hair with soft water and warm water instead of hot water and hard water.
When you dry your wig, you'd better choose natural air drying. If you use a hair dryer, you should use the lowest gear.
When you use conditioner and shampoo, you should choose products that are milder and safer for your hair without sulfate.
You need to avoid or reduce the heat setting of your hair. Every heat setting will hurt your lace wigs.
Popular styles of burgundy lace front wigs in Recool Hair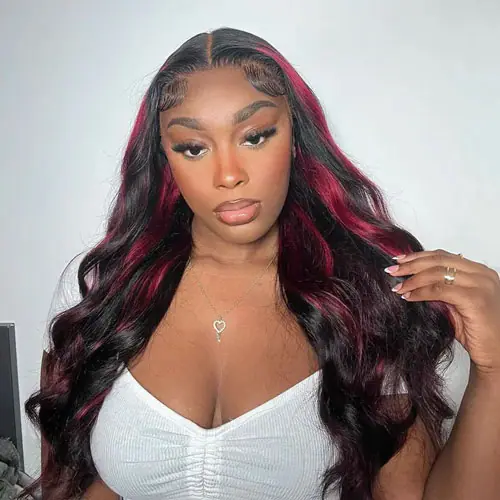 It is a body wave burgundy lace front wig with dark roots. And you can wear the wigs without glue.
It is straight burgundy lace front wig without glue. You can wear the wigs with HD lace which can give you the most transparent hairline.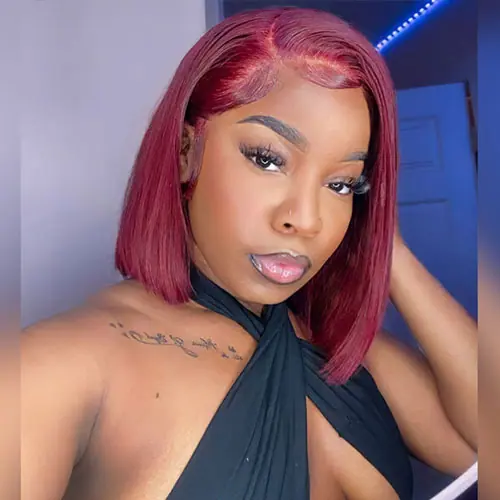 This is a bob wig with straight hair which is 1b/99J. You will get a natural hairline. And it is HD lace.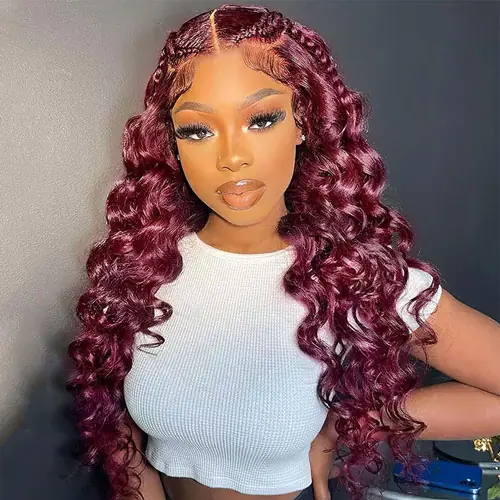 The hairstyle is a loose deep wave with burgundy hair color. The wigs are pre-plucked for you can save much time plucking the hairline by yourselves.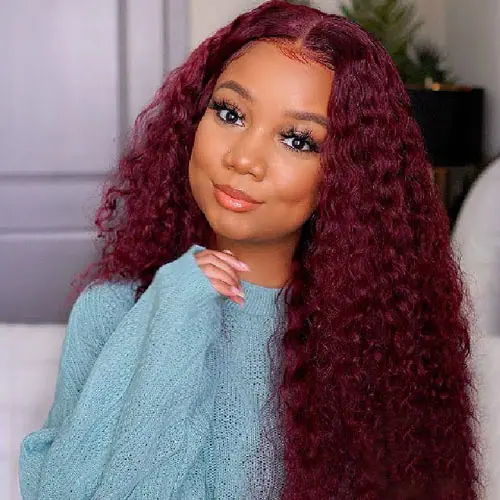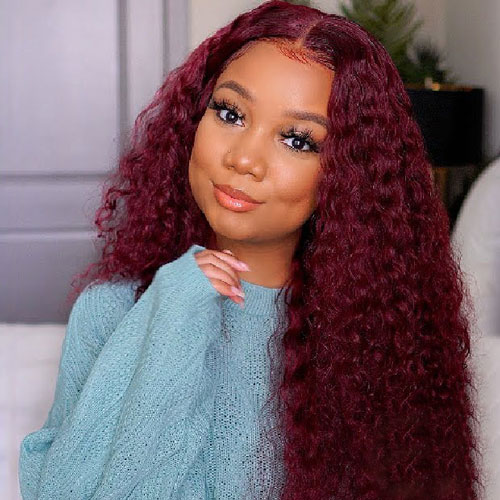 It is a deep-wave hairstyle with 99J burgundy color. The 5×5/13×4 lace areas are nice to try for free choices.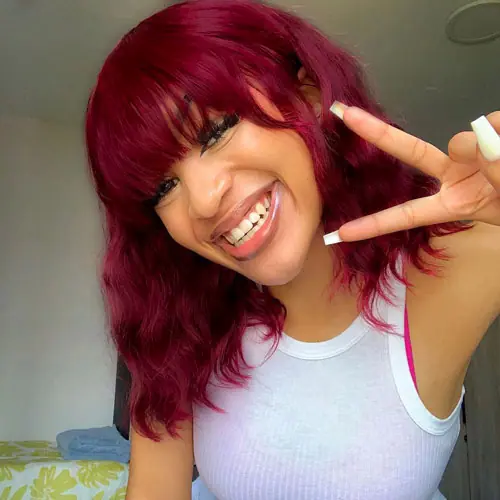 The wigs with bangs have the 99J burgundy hair color in the hair shape of loose deep wave curls. It is a no-lace wig with affordable prices. If you want to try a new type of burgundy hair wig, the non-lace wigs with bangs will be an awesome choice in shot hairstyle.