Follow
Muhammad Adnan is a professional tech writer. He loves to write about technology stacks, application development, web development, eCommerce, AI, IoT, and various technology topics. Adnan has the expertise to generate traffic on your blog to boost your buying persona. In his leisure time, he loves to read about technology updates.
As the world's technological sector has expanded, so has the custom mobile app development company. We have seen a significant increase in mobile phone users in recent years. Nearly 5.18 billion peopl...
21 November ·
0
· 2
·
Muhammad Adnan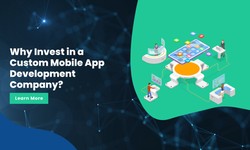 Custom application development services are in high demand in this day and age of ever-increasing technology. They are excellent methods of providing strategy, transformation, management, and workflow...
14 November ·
0
· 5
·
Muhammad Adnan