 Follow
Music is one thing in our life and is utilized just as much as we breathe. It is no brainer that the technological advancement since yonks ago has just made consumption of Music sn...
jhonmatthew
3 days ago ·
0
· 2
The art NFTs gained sheer limelight when Beeple sold his art NFT for $69 million at an auction in the Nifty Gateway NFT marketplace. Not to exaggerate, the very existence of Non-Fungible Tokens became familiar among commoners. It was when many considered NFTs as just a craze; tha...
jhonmatthew
6 days ago ·
0
· 3
Hey readers! As of the current age, NFTs are being adopted in a range of industries, and the most notable ones are sports, gaming, entertainment, artworks, etc. In this write-up, I...
jhonmatthew
1 week ago ·
0
· 4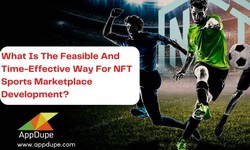 NFTs are surprisingly surpassing the expectations in their trading volume and are finding their applications in multiple sectors. Here, in this microblog, we'll see through what re...
jhonmatthew
28 July ·
0
· 8