dropshipping

(3)

Starting a dropshipping business can be a great way to generate passive income, but there are common mistakes that many people make when starting out. In this article, we'll discuss some of the common mistakes to avoid when starting a dropshipping business with JungleRover. Not Researching Your Niche One of the biggest mistakes that people make w...

Crystal Webster

· 26 July

· 1

In the last few years there has been a huge interest in dropshipping. Online entrepreneurs are spreading the advantages of dropshipping left all over the place. This isn't surprising since that the idea of creating an online store with no stock or in...

cartcoders

· 24 February

· 5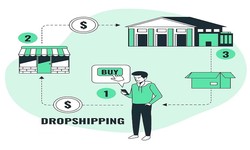 Dropshipping is an electronic commerce type business model with the big difference that the seller does not need to store the products or have stock, since all logistics management is the responsibility of the wholesaler. Explained in another way,...
muhammad wasim tariq
· 23 February
· 1