car enthusiast

(3)

Ah, the joy of owning a car. It's like having your very own trusty steed, ready to take you on countless adventures across town. But just like any loyal companion, your car also needs a little TLC to keep it running smoothly. For car maintenance tips...

Universal Latest News

· 13 August

· 23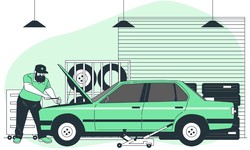 Tashkent, the vibrant capital city of Uzbekistan, is a melting pot of history, culture, and modernity. Exploring this dynamic city requires a convenient and flexible mode of transportation, and car rental proves to be an excellent choice. With a rich tapestry of historical sites, bustling markets, and modern amenities, having the freedom to explore...
Johnny
· 29 November
· 1
Rolls-Royce is synonymous with luxury, elegance, and sophistication. When it comes to cars, the name Rolls-Royce immediately conjures images of opulence and style. Among their impressive lineup of vehicles, the Rolls-Royce Cullinan stands out as a true icon of luxury and comfort. Now, car enthusiasts and luxury aficionados have the opportunity to e...
sam max
· 25 October
· 1