Although 3D printers are still new in many ways, their scope continues to expand. Five to ten years ago, printers mainly printed simple objects from a homogeneous material (most often plastic), and their use in medicine, industry and construction was only discussed and tested. Today, more real estate projects are experimenting with this new technology as a faster and more sustainable alternative to traditional building methods.
As startups compete to create new designs and cut print times from days to hours, they are emerging as a promising solution to a range of global problems.
Solving the problem of the homeless
Icon, a Texas-based construction company, has unveiled a model of a concrete house that can be printed in less than 24 hours at a cost of less than $10,000. Since then, they have partnered with housing company New Story to roll out construction in El Salvador to print about 100 homes for people living in the slums.
If you imagined an ugly plastic box, then your idea is outdated. This is what 3D-printed houses in El Salvador look like.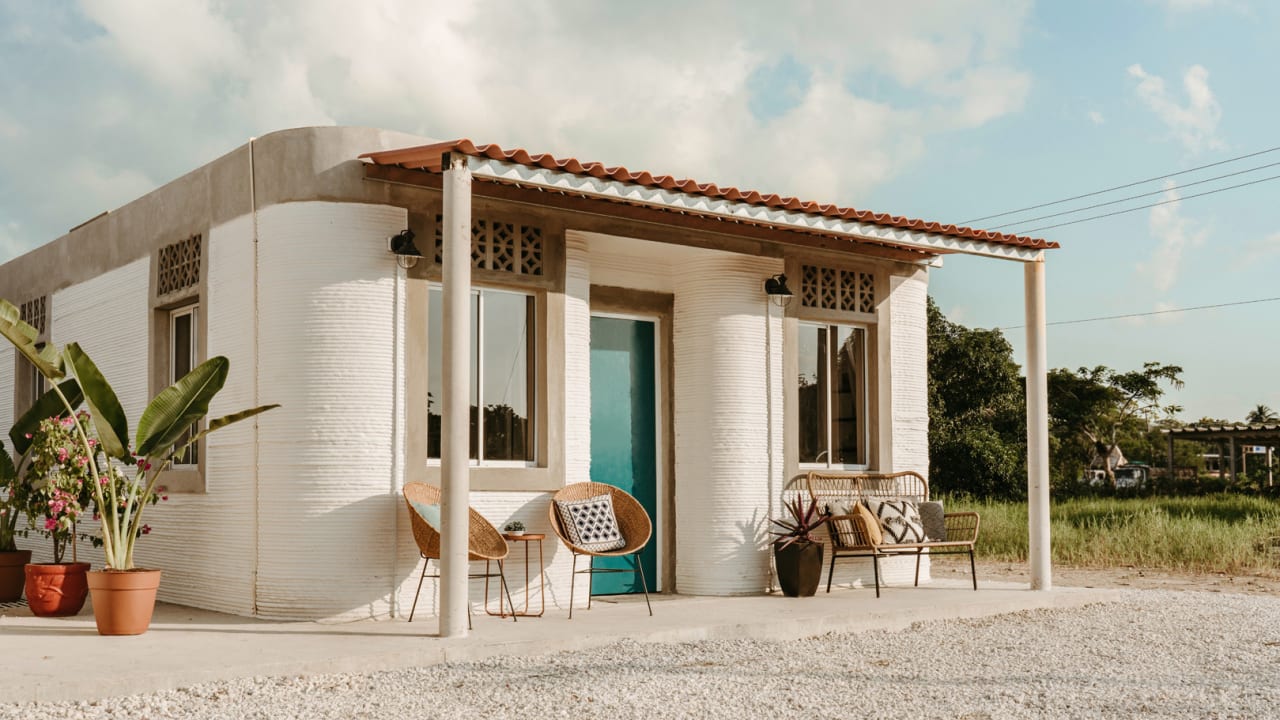 If applied on a massive scale, this technology could indeed help to build entire social housing areas in a short time to solve the problem of homelessness in developing countries on a relatively small budget.
Mass construction
Dubai was one of the first countries to embrace the prospect of mass 3D-printed homes, where high levels of urban migration and a focus on luxury projects have led to a shortage of affordable housing. An ambitious government strategy aims to use 3D printing to build a quarter of new buildings by 2025.
Building Information Modeling (BIM) systems are already widespread in Dubai's construction industry, providing a digital foundation for interacting with 3D printers.
Following Dubai, other countries began to implement BIM methods, for example, the USA, Great Britain, the Netherlands and France. So, with the help of a 3D printer, a house of 92 square meters was built in Nantes, France. The house was printed in just 52 hours. Here's what it looks like.
The short construction time of buildings is already changing the logic of construction, and in the short term it can change the layout of entire cities.
Investment attractiveness
Of course, low construction costs are attractive not only for states and cities, but also for individual companies. New technologies become a competitive advantage for those projects that apply innovations in their work.
For example, the Home Key project is already actively using new technologies in low-rise construction. Unlike the same social housing in El Salvador, these are full-fledged cottage houses, in terms of comfort they are in no way inferior to those built by the traditional method.
The commercial use of new technologies (and this, in addition to 3D printing, is also blockchain) makes Home Key offers more profitable than others.
Clients can get a house in 3 months for the price of an apartment.

Investors can earn an income of 18-100% per annum, which is significantly higher than when investing in the traditional real estate market.

Partners can earn additional income by attracting customers.
The conclusion here will be similar to the introduction. 3D printers are still a novelty in many ways. Most likely, it won't be for long. Soon, the technology will be massively used by both local companies and the world's largest developers. And, as is often the case, those who are the first to see the potential in the emerging technology will benefit the most.