I always wonder if I should get bangs. You could have previously received bangs and liked them, or you might have always wanted to try bangs but lacked the bravery to do so. As wig experts, we absolutely understand the appeal of bangs. Some of us have sported bangs since we were young, and we've all worn one or two fringes at one point or another. Several hairstyles have become icons because of their iconic bangs, including Audrey Hepburn's baby bangs, Brigitte Bardot's curtain fringe, Zooey Deschanel's blunt bangs, and a plethora of others.
Bangs usually look like a terrific idea since they are cute and stylish, but let's not fool ourselves. Bangs are a lot of work and time. Bangs may be a hassle because of the frequent trimming and the ebb and flow of fringe trends (In addition, growing them out is really unpleasant.).
What is good news? Wigs are a possible remedy. While wearing a wig, the bangs do not need to be cut, and there is no need for the fringe to grow out if you choose to ignore it. Also, it takes just a few simple steps to learn how to style a wig with bangs! Today, I'll fill you in on all you need to know about wig with bangs.
Why would I want a wig with bangs?
A wig with a bang is a good option for a number of reasons:
Bangs are fashionable and in style.
The face could look more defined and visually pleasant with a fringe.
Wigs with bangs do not require the lace front, which some women may fell the lace front are a little bit irritating.
More style possibilities are made possible with bangs.
How are wig bangs cut?
I can provide you advice on how to trim wig bangs based on my expertise because this is a really difficult wig inquiry lesson. The steps are the same whether you want to know how to cut bangs on a wig with a centre part. The best choice if you want bangs is to get a wig with a fringe. To get the length and style you want, you might still need to clip your bangs. As an alternative, you may even add bangs to a wig without them. Having your bangs trim to complement the shape of your face is the key to attaining the ideal fringe in any case.
Always seek the advice of a qualified hairstylist while getting your bangs cropped. Wigs do not grow as your own hair does. It won't be feasible to fix a mistake if you make one.
Be sure to go by these recommendations if you decide to cut your own bangs:
I. Divide your bangs.
Sharp scissors are required to cut the bangs on your wig. Your bangs should be cut in sections, so divide them with a comb. Low ponytails may be created using the remaining hair that doesn't require trimming.
II. Progressively trim the wig bangs.
Wigs may be kept straight and have straight, horizontal bangs by being clipped one side at a time while trimming them gradually. Cutting bangs on a wig properly requires trimming off 0.32-0.64 cm at a time until the desired length is reached. In order to assure the look, you then comb both portions, check the length, and trim as necessary. The process is then repeated with the remainder of the portion.
III. Add ornaments to your wig bangs.
You may get perfect wig bangs by combing your bangs, applying hairspray to them, and keeping them in place. You can then easily understand how to trim bangs on a wig.
Advice on how to trim bangs on a wig:
Less hair will be removed than you originally anticipate, giving you longer bangs. This gives you the opportunity to balance out your bangs and, if required, fix any errors. Remember that while you can always cut your bangs shorter, you cannot do the opposite.
Inner tabs located at each wig's temples make it simpler to put on. To avoid cutting your bangs too wide, use these tabs as guides for where to finish cutting them on the sides.
Hold your scissors horizontally for a blunter appearance. Cut vertically for a shaggier appearance.
How should bang-style wigs be worn properly?
You may get wig bangs directly if you believe that trimming bangs with wigs will be challenging for you. Can you quickly and correctly wear a wig with bangs? A wig with bangs won't work if you don't do it properly. Why do some individuals wear wigs with bangs that make their hair appear full of vigor while you wear one that looks do not like the style you want? Ah, honey, I see now why you're not wearing it properly.
I. Acquire tools you will need.
For the installation of wig bangs to go successfully, you'll need a few things. The wig with bangs, hair dryers, wide-toothed combs, wig caps, hairpins, and styling tools, whether it is made of human hair or synthetic fiber.
II. Cleanse your wig.
Once your wigs have just arrived, the first thing you should do is wash it. Dry them using a hairdryer and a wide-toothed comb after they are semi-dry. It's advisable to wash your wig as well, especially if it hasn't been used in a while.
III. Wear your wig cap.
When purchasing a lace wig, you must cut the bangs of the wig, trim any extra lace you feel around them, and then fasten the wig cap to your head. Apply some hairline powder to the edges of the cap if it doesn't match your skin tone, then tuck your hair inside.
IV. Put on the wig.
It is necessary to use a holding product on the hairline area of the wig after wearing a wig with bangs so that the lace mesh will better suit the scalp.
Hints on styling a wig with bangs.
There are a few things you can do to make your wig (and bangs), after they are exactly as you want them to be, stand out.
Your bangs will appear traditional if you style them straight. While you direct a hair drier with a diffuser set to the cool setting downward on the bangs, use a wig comb or wig brush to move them from side to side. To secure your bangs in place, comb them down and lightly mist some wig spray on them.
Side-swept bangs.
Just sweep your bangs to the side and secure them in place with wig styling cream to get the side-swept appearance.
Curtain bangs.
Similar to side-swept bangs, curtain bangs are incredibly simple to style. Just divide your bangs down the middle, then sweep either side. With wig styling cream, secure in position.
Updo styles.
Your bangs will stand out more if you pull the remainder of your hair out of your face. To get a fresh appearance, try these styles:
For a lovely half-up, half-down style, clip or ponytail holder half of your wig's hair and let the other half hang loose.
Do a low side braid by sweeping all of your hair to one side.
Around the nape of the neck, style your hair in a sleek low ponytail or chignon.
Straight, blunt bangs.
For a timeless appearance, try styling your wig with these bangs. If you want to appear more polished or professional, this is a wonderful alternative.
Wispy or feathery bangs.
If you prefer a more understated appearance, think about arranging your wig with these kind of bangs. If you want to give your hair a bit more texture without making a big difference, this might be a terrific alternative.
Braided bangs.
If you want to give your wig with bangs a little more style, think about braiding the bangs. This can be a great choice for a festival or other special occasion. The bangs should be divided into three portions to be braided.
Accessories.
You may always use accessories like bandanas, headbands, and scarves whether your wig is short or long. Your bangs will truly stand out with the aid of these accessories.
The style possibilities are almost unlimited as you get more at ease with your bangs! We hope that our ideas gave you the creative spark you needed.
Maintaining your wig.
If you want your wig with bangs to last as long as possible once you've chosen it, you must take good care of it.
Wig care advice:
Clean your wig frequently.
Depending on how frequently you wear it and how much product you use, you should wash it frequently. Usually speaking, you should wash your wig every 6 to 8 wears or if it becomes soiled or oily.
Use wig-specific shampoo and conditioner, and refrain from using hot water or forcefully massaging the wig.
Carefully detangle your wig.
Wigs with bangs are more likely to tangle, so it's important to do it slowly to prevent hair damage. Using a wide-tooth comb or detangling brush, carefully work out any knots or tangles.
When you aren't using your wig, preserve it carefully to avoid damage. Avoid direct sunlight and use a wig stand or wig head to assist the wig keep its form.
Keep your wig away from direct sunlight.
Avoid using heat on your wig since, like your actual hair, it can become damaged. Use a low heat setting and a heat protectant spray while styling your wig to prevent damage.
Which bangs-style wigs are the best?
A variety of bang-style wigs are also readily available. The variety of bang wigs available on the wig market will leave you absolutely perplexed. To eliminate the uncertainty involved in selecting a wig with bangs, I'll list some of the best ones today.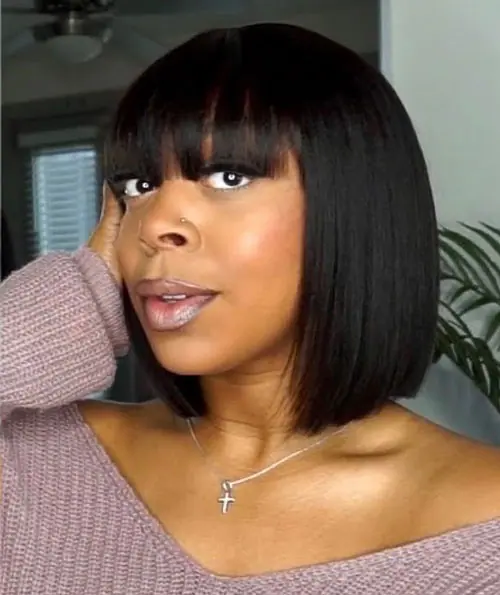 A bob wig with bangs is irresistible. This 10-14 inch bob wig with bangs is a fantastic solution to the length problem. To highlight your sense of style, use huge earrings with the wig. You may, of course, also knot it in half and leave a few strands on your forehead for a different sensation. Human hair bob wigs with bangs have very silky hair, which makes them very easy to maintain because they are short and hence less likely to knot.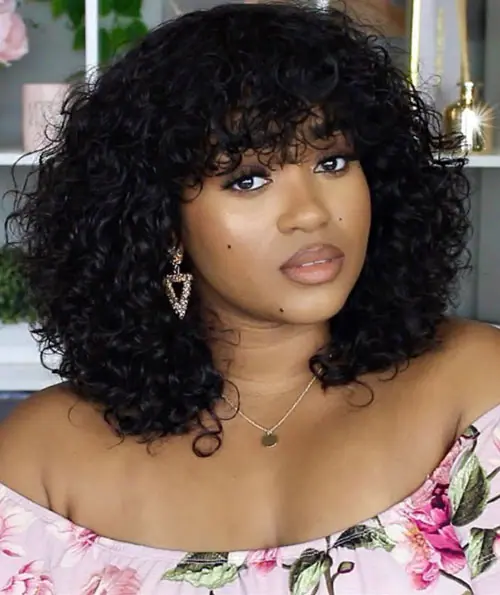 One style of curly hair that appears particularly fluffy and bushy is a fluffy curly wig with bangs. They're an excellent technique to highlight your hair's volume. Well shaped fluffy curls. When you wear it, people will never know that it is a wig since the bangs on the hairpiece are so similar to your own natural hair, which is amazing!
Why choose us?
One of the top websites for buying wigs and hair extensions is recoolhair.com. For various hair types, we provide a wide range of hair products, such as bang-style wigs, lace front wigs, V/U part wigs, headband wigs, and glueless wigs. We also provide a selection of hues, fashions, and lengths.
Our dedication to quality separates us from other hair dealers. We only offer wigs and hair extensions that are of the highest caliber.
Also, we provide a 100 percent money-back guarantee on all of our goods. So, you may return your product for a full refund if you're unsatisfied with it.
Go no farther than www.recoolhair.com for the finest site to get human hair wigs and human hair extensions.
Summary up.
Bangs are a fun and adaptable method to change up your appearance without committing to a long-term haircut. You may always have a fresh new appearance by picking the perfect wig, caring for it properly, and experimenting with various style choices. There is the ideal wig with bangs for you, whether you choose blunt bangs, side-swept bangs, or something in between. So go ahead and give wigs with bangs a try; you might really like the outcome!