Decaf coffee has been on the rise in recent years. The global market size for decaf is valued at USD 1.65 billion. The rising demand for decaf is observed when more and more people opt for caffeine moderation and healthier choices.
Specialty coffee shops and brands have noticed the trend. As a result, you get to explore a wide range of decaf options on the shelves.
Referring to the market share size, it can be said that organic decaf coffee has carved out a significant place in the coffee industry. Coffee lovers seeking flavorful alternatives with less caffeine are in love with organic decaf blends. Let's dive deep and explore the progress of the coffee industry.
What is decaf espresso?
Decaf espresso is the way to go for those who want to enjoy a late-night espresso or simply prefer to limit their caffeine intake.
In other words, decaf espresso is just like your regular espresso shot with lesser caffeine. It's the same delicious and intense shot of coffee goodness but made from decaf coffee beans.
Decaf is the process of removing caffeine content from regular coffee beans.
Brands use chemical solvents to strip off the caffeine and some employ the natural and eco-friendly water process for decaffeination.
How big is the decaf espresso beans industry?
Decaf espresso beans are immensely popular these days. They are easily available at coffee shops, specialty retailers, and online platforms. As of recent statistics, it is estimated that the market size for decaf beans will reach USD 2.8 billion by the year 2027. The data available on market research portals stated that the industry is growing with a growth rate of 4.45% which is commendable comparing the growth rate of other healthier variants of everyday products.
What are the reasons behind the increasing demand for Swiss processed decaf coffee?
Swiss processed decaf coffee is processed by soaking and washing the coffee beans in water. The meticulous process of decaf makes the coffee beans slightly expensive. Despite the premium price tag, people are in love with Swiss processed decaf and below are the reasons for it.
Chemical-free decaf: The method only uses water to remove caffeine from coffee beans. This attracts consumers who need a chemical free and natural product.
Amazing flavor and aroma: The chemical free decaf process works best to preserve the natural flavors and aromas of coffee.
Health benefits: Health conscious people have a growing interest in Swiss water processed decaf coffee because it is the lowest-caffeine alternative. The process removes around 99.99% caffeine.
Consumer preferences: Caffeine-related sleep disturbances, jitters and dietary restrictions are best addressed with this healthier alternative. Moreover, personal taste preferences make Swiss water processed decaf coffee a desirable option.
What is organic decaf coffee and why you should try it?
Caffiene-free goodness can't be just enjoyed with the buzzword 'decaf'. Pay attention to the cultivation and origin and be mindful of your selection.
It is important to shop for organic decaf coffee because the beans were cultivated without the use of synthetic fertilizers and pesticides. You should give organic decaf a try because it's worth it.
It reduces potential exposure to cancer-causing harmful substances.
Organic cultivation makes the taste rich, complex and clean.
If you prefer ethical and sustainable consumer choices you should go for organic decaf coffee
Sensitivities and allergies to chemicals are best resolved by consuming organic decaf
Where to shop for the best decaf coffee beans?
Decaf coffee brands are easily available online. These online shops are known for their meticulously sourced and freshly roasted decaf beans. Go for an online brand that specializes in Swiss water processed organic decaf coffee. You can also vouch for the quality and taste when the brand claims to sell shade-grown and single-origin blends.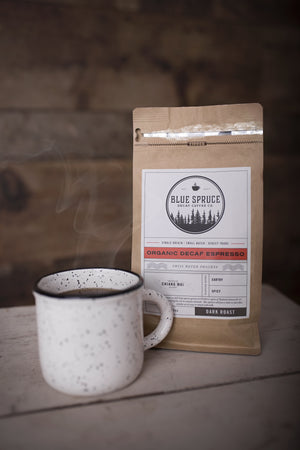 Conclusion
High-quality organic decaf coffee options have expanded. While catering to the growing demand, the Swiss processed decaf blends have grown their market share. Explore the product range at Blue Spruce Decaf Coffee Co and open up the world of delightful and conscious coffee enjoyment.