remote work

(3)

Do you share your home with a four-legged pal who meows or barks? If so, you are not alone. More than half of the world's population has a pet in their home. Furthermore, one-third of average households own at least one canine and another quarter own...

Featured Writer

· 27 October 2022

· 38 · 3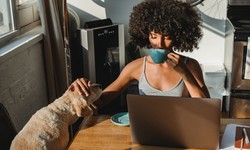 AI is growing at a rate that has never been seen before, and more people are getting access to it. Even though AI has been increasing for the past few years, ChatGPT's release last year was a game-changer. With this or any other software package powe...
Haroon Akram
· 6 days ago
· 2
Organizations rely on employee monitoring system software to monitor productivity, enforce compliance, and maintain efficient teamwork as remote work becomes more common. However, using employee monitoring system software while working from home has...
Sara Khan
· 17 August
· 4