neetish sarda

(3)

In the past few decades, the face of Indian Entrepreneurship has changed and enhanced at a massive pace. It seems that every second young individual is ambitious about his/her plans. But having a dream or a vision is the exact opposite of reality. In the real world, running a business organization comes with several personal, professional, internal...

Ghanshyam Sarda

· 12 April

· 24

Innovation encourages growth and expansion. Twenty years ago, a typical office design would see workers execute their assigned tasks in cubicles and departing the workplace for the day. There has been a change in Indian offices since then. However, i...

Jitender Singh

· 05 April

· 4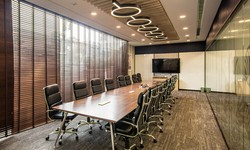 Neetish Sarda is a young and dynamic entrepreneur who has made a name for himself in the real estate industry. He is the founder and CEO of Smartworks, India's leading provider of agile workspaces. Neetish Sarda has been recognized for his contributions to the industry and has received several awards and accolades.   One of the most sign...
Shashank Tripathi
· 15 March
· 8