kids' storytelling

(3)

The beauty of children's literature is its timeless allure. Every page turned, every character introduced, and every plot twist can shape young minds and leave an indelible mark on their hearts. There's a unique charm to creating big books for kids &...

Universal Latest News

· 21 August

· 14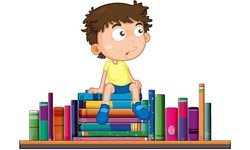 Earning money as a child teaches valuable lessons about hard work and financial independence, in addition to being a means of purchasing fun goods. Not only is the final result important, but so is the sense of accomplishment that comes from working hard for what you deserve. There are several easy and enjoyable methods to generate money for youn...
Florence
· 1 week ago
· 6
In today's rapidly changing financial landscape, securing your child's financial future has never been more critical. One of the most effective ways to achieve this is by starting a Child Savings Account, often referred to as a Junior Depot or Kinder...
Umermalik
· 06 October
· 4