What is a Digital is at the heart of successful businesses. The trend towards a platform economy is increasingly affecting all businesses. In the next phase, the network approach will expand from individual platform services to entire digital ecosystems. In the ecosystem world, the ability to harness data, deliver a winning customer experience and ensure the seamless functioning of the digital ecosystem are essential success factors.
Different industries, and different companies within an industry, are typically at different stages of digitalisation. There are pioneers that have fully digitised their operations, and others that are just taking the first steps towards digitalisation. In most organisations, services and processes already work with digital systems and the next steps are now being considered: how to develop the whole to deliver the best business value.
As technology creeps into more and more areas of an organisation, the number and range of potential technology investments is growing. Without a clear picture of the benefits of digitalisation and a coherent development roadmap, piecemeal IT development projects can become surprisingly expensive and the results unconvincing.
This is not helped by the fact that the digital age is full of hype and platitudes. However, inaccurate digitalisation discourse obscures the concrete meanings of words. For example. According to McKinsey, multiple meanings easily lead to confusion in an organisation. What were we doing and where were we going? After all, what does "digital business" mean? What does it mean for us in particular?
Today, it is almost impossible to find a company whose business does not have something digital in it. Even a hairdresser's cash register or appointment booking system is digital. Digital consultants joke that when a light switch turns on in a room, someone thinks that's digital too.
So where do we draw the line? How much of it has to be digital to be digital business as a whole? Does a hairdresser need to have an IoT sensor in his hairdryer? The definition at the other end of the spectrum identifies as digital business only those activities that exclusively produce or sell something that is entirely digital. Nothing moves but bits, and money comes from bits. Such a service is Spotify, for example. However, the definition is narrow and does not tell the whole story, at least in everyday use.
Usually, when companies say they are developing a "new digital business", they mean something new to be developed alongside an existing business, with a substantially greater degree of digitalisation. For example, a law firm might say that they are developing a chatbot that will provide advice, offer machine-generated contract templates and thus reduce the need for human labour.
The definition of digital business therefore depends on the perspective. For different speakers in different companies and at different stages of development, digitalisation can mean very different things. In general, it makes sense to look at what is meant by digitalisation on a case-by-case basis.
New business development vs. digitalisation of existing business
So for companies with established businesses, digital often means developing digital channels and services alongside or in support of their existing business. Digitising an existing business can also often mean automating processes under the hood, invisible to users, bringing efficiency and competitiveness to the business. Upgrades to the underlying systems that support core processes may also be needed where legacy systems do not allow for the development of new digital services.
Digitalisation also offers opportunities to develop a completely new business or to renew one's own business model. This was the case, for example, for Briko Oy, a specialist construction labour hire company, which wanted to revolutionise the sector with a mobile application that would improve the way both employees and employers met. The result was the Bolt mobile app, the introduction of which revolutionised the entire industry and led to the rebranding of the company as Bolt.Works Ltd.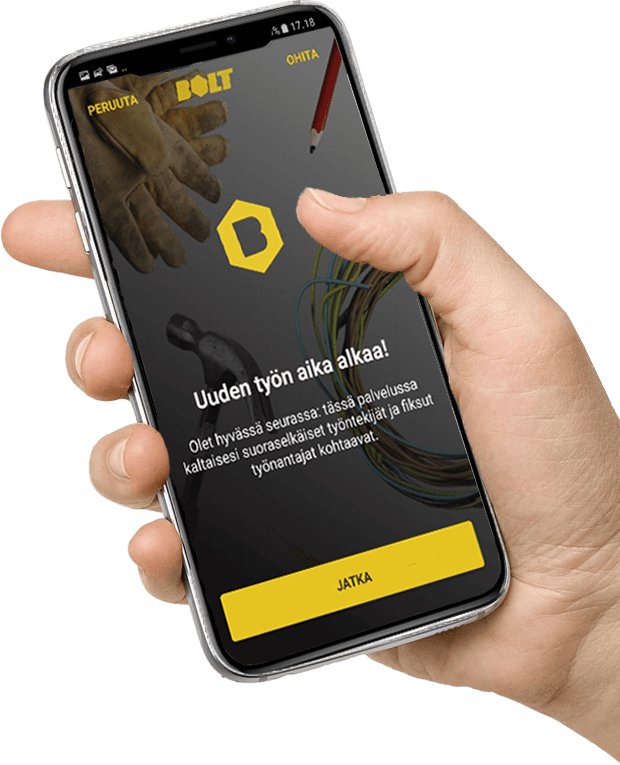 In the future, digital disruption will force more and more companies to look for new ways of working. Networks and ecosystems based on sharing and leveraging data will play an increasingly important role as companies look for new ways to deliver value to their customers.
What is digital business not?
While digital business can mean different things depending on the speaker and the context, the common thread is the application of IT solutions to benefit business.
Not all IT procurement falls under the umbrella of digital business. In order to talk about business, some movement of money is required. No technology, or even a whole digital ecosystem in itself, without some kind of earning logic is a digital business.
Typically, false expectations are associated with spot IT purchases that are disconnected from the business. A fun-looking mobile app may be an entertaining and nice digital experiment, but does it contribute anything to the core business?
In the worst case, new sales and customer service channels can become competitors to existing channels if they do not have a clear role as part of the overall business. This leads to the cannibalisation of your own business.
Digital business is therefore not about sporadic technology acquisitions made in isolation from business needs, but about sustainable digitalisation of operations that genuinely benefits the core business.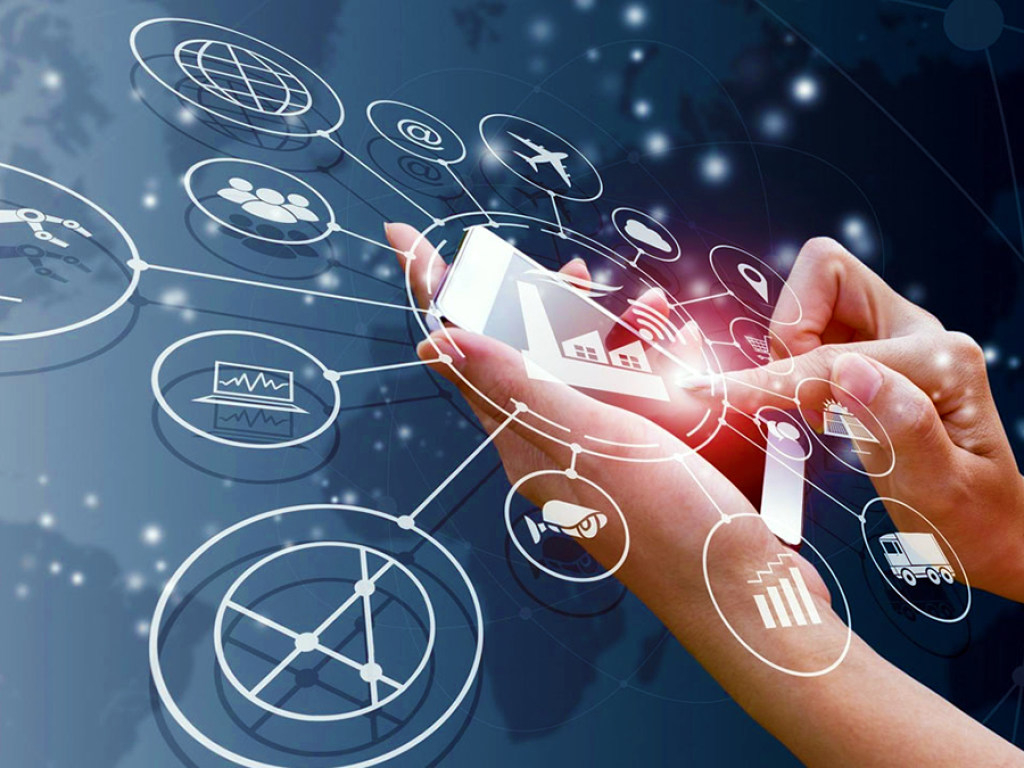 It is therefore a good idea to use business case studies before embarking on implementation projects. The idea is to develop the business taking into account technology, business needs and people, i.e. the customers and users of the services. This combination results in a sustainable, user-friendly and profitable digital business.
Can digital business be developed in isolation from other businesses?
The short answer is: it cannot. But it is worth noting that it can make sense to look at digital services and channels in isolation, for example to focus on e-commerce revenues or to concentrate on channel development.
In the big picture, digital channels are powered by the same underlying systems and processes as the rest of the business. In e-commerce, for example, customer satisfaction is often determined by the functionality of deliveries or returns, not just the interface of the e-commerce store. Sometimes digital channels may be defined as directing traffic to physical points of sale or vice versa, and it is not always easy to tell which channels the customer has passed through before the final purchase.
A flexible IT architecture ensures the best competitiveness and continuous development, allowing core business processes to run smoothly around the clock, day in and day out, while open interfaces and the use of data enable rapid experimentation and development projects.
Why is every company's business already a digital business?
At the time, Gartner had published a survey in which more than half of the 1,000 business and IT executives interviewed agreed that "digitalisation has little or no impact on their business". This figure has probably fallen in the last couple of years - but let's take a look at why digitalisation is guaranteed to affect each and every one of us, just to be sure. Yours too.
Customer behaviour has changed
Consumers are looking for information, doing business and making purchases online. As the number of options has multiplied, customers' expectations have also increased.
Competitors will seize opportunities if you don't
Technology enables you to do business much more productively and efficiently. For many, it's not an option not to take advantage of technology - competitors are unlikely to miss the opportunity.
Changing ways of working and communicating
The tools you use at work affect the efficiency and fluidity of your work and the employee experience. No one wants to work in the Stone Age - and no buyer wants to do business with a company stuck there. New digital ways of working are making things more efficient, for example by automating what used to be done by humans.
Ecosystems and networks are the future
With a tidal wave of digital disruption looming, businesses need the ability to innovate. Successful businesses are united by the openness and networking that digital platforms and interfaces are enabling in new ways. Value is created when business is developed through networked collaboration around information shared through interfaces.
What can digital business be?
IN THIS CHAPTER: Digital business = e-commerce? At the heart of multichannel | Digital platforms and fully digital business models | Developing a digital customer experience | Leveraging data for business
As mentioned in the previous chapter, digital business means different things to different industries and different stages of development for businesses. In everyday language, there are as many concepts of digitalisation as there are speakers. In this chapter, we will unpack some of the most common approaches to digital business.
Digital business = e-commerce? Multichannel at the heart
Opening an online store is easily the first thought that comes to mind when thinking about digital business. Indeed, online shopping is often a key new channel for reaching customers. However, online business is a much broader concept than one might first think.
In the old days, a company might have opened a fancy new online store - and the rest of its business would continue on its familiar path. Today's requirements don't fit the idea (if they ever did). It soon becomes apparent that it is a question of developing the whole business into a multi-channel one, which typically requires changes in the way it operates, as well as in its management and culture. The journey towards multichannelisation should start with one question: are you ready to change your business processes?
Alongside online business, we can also talk about multi-channel or omni-channel business, where all channels, digital and physical, work as a single entity to seamlessly serve the customer. At the heart of this is managing customer encounters, service processes and the entire value chain from the customer's service experience. It is therefore about bringing the whole business online and systematically managing it through analytics and continuous optimisation.
New call-to-actionDigital platforms and fully digital business models
Ankara's interpretation of digital business is limited to operators whose entire business is based on some form of digital solution. This category has traditionally included platform operators such as Über, Foodora, Wolt and so on.
Today, however, it no longer makes sense to draw a strict line between new, disruptive platform players and more traditional businesses. Companies are increasingly looking at digitising their entire business, rather than individual digital projects. IT infrastructures are being designed as a whole so that core business systems, such as ERP or customer relationship management, form the platform on which digital services are developed. The implementation of the whole is done in phases.
Easily interconnected platforms and the sharing of data between them will enable new ways of creating value. It may be profitable for a company to offer its services on a third-party platform or to attract a wider audience to its own platform service by including other service providers.
This trend is already visible today and will become even stronger in the years to come. The trend in the platform economy will inevitably have an impact on established businesses. The networked approach is spreading rapidly and changing the world forever. At the same time, digitalisation is breaking down old barriers and opening up new paths for businesses that would not have been possible before. Find out why digital ecosystems are superior at creating value.
Developing the digital customer experience
Today's people have more choices at their fingertips than ever before, and the threshold to vote with their feet is low. So the importance of customer experience as a success factor for businesses is growing.
Digitalisation often means an increase in the number of channels and communication tools available to businesses. Online, it is possible to reach existing and new customers on entirely new platforms and to offer them a wider range of options. However, the old service channels and meeting points, such as physical shops and offices, will generally not disappear (at least not immediately).
As mentioned in the previous chapter, in order to build a seamless customer experience, the whole range of channels should be managed and developed from the customer's service experience. In other words, it is not enough to polish individual channels and touch points, whether it is the mobile app interface or the nice salespeople in the bricks-and-mortar store. The king of customer experience building is getting these channels to play together so that the customer sees no boundaries between them. A customer's experience can start in one place and continue seamlessly in another, with the same information available in a consistent way everywhere.
A consistent, deep customer experience therefore requires building core processes and supporting systems to support a seamless service experience. But even before that, something critical is needed: knowledge about what a good customer experience actually means for our customers. What channels do they use, what kind of service do they want?
In terms of understanding the customer and putting that understanding into practice, service design provides a good toolkit, from customer research to user-centred design. As we move from design to implementation, testing services both technically and from a pathway perspective is critical to avoid poor customer experiences. Data-driven customer analytics can also help to build customer insight, explore the smoothness of the user experience and identify stumbling blocks and bottlenecks in digital channels.
At Eckerö Line, the customer experience guides the development of operations. The company has used service design to make its online service more user-centric. Read the Eckerö Line story here.
Leveraging data for business
Data is at the heart of digital business - in many different ways.
Data can be leveraged:
Driving digital business
Developing new services
Commercialising data and creating new business from it.
Driving business with data means, for example, collecting and using customer data to gain deeper customer insights and thereby improve the customer experience. In practice, customer data can be used for advertising and marketing, content targeting or even personalisation of services.
Data on internal processes is also available in a completely different way than before. For example, data on production efficiency, equipment performance or profitability are available to help you improve and optimise your operations.
When data is used in a way that is not foreseen, it is called analytics. In the digital world, data exploitation and analysis is one of the most important capabilities of companies and organisations - so important that we devote a whole chapter to it in this text. Read more here.
Data also has value as a raw material for new services. Open interfaces and interface management play a key role in how easily data can be accessed and combined from different systems. The easier the data is available, the shorter the time-to-market for new services and the lower the development costs.
In addition to the many ways in which an organisation can use the data itself, in some cases it can also be sold on. When the data itself becomes a commodity, this is called monetisation. This commercialisation of data typically opens up a whole new business opportunity. For example, platform economy services that connect travel entrepreneurs with holidaymakers, restaurants with hungry people, or drivers with people who need a ride, base their business on data; the combination of supply and demand data.
How to build a digital business?
IN THIS CHAPTER: E-commerce, mobile apps and other services for customers and employees | Integrations as a driver of digitalisation |
Core systems are the bedrock of digital business
Digitising your business starts with defining clear, business-driven goals. Once the role of digital solutions as part of the overall business picture is clear, it's time to turn your thoughts to how to do it in practice. What kind of applications and systems are needed to support digital business, and how do processes and practices need to be updated at the same time?
Irrelevant, piecemeal implementations are rarely of much use. Successful digitalisation is about taking into account the different layers of digitalisation, from the systems that run the core processes to the services at the customer interface.
E-commerce, mobile apps and other services for customers and employees
Digital services and channels are probably the first thing that most people think of when they think of digitalisation. Indeed, they are the most visible manifestation of digitalisation in everyday life.
However, it is worth remembering that digital services do not have an intrinsic value in themselves, but that any digital development must be based on carefully considered business objectives and benefits. For example, the fact that a competitor has introduced a new mobile application is not a good enough reason to rush into developing your own mobile application. However, if it is recognised that customers are looking for new, digital channels to do business, it is time to consider how to meet their needs. A mobile app is not necessarily the only or best option.
The benefits of digital services can be broadly grouped under three headings:
Increasing sales
New channels make it easier to buy, help you reach entirely new customers and enable more effective additional and cross-selling.
Customer satisfaction
Developing services based on customer insight results in satisfied users and buying customers.
Cost-effectiveness
Digital tools help streamline processes and automate manual tasks.
So the opportunities for digital services are vast - where and how to start? The key is to think about it from the customer's perspective. Who are our customers and how do they want to do business? What are the meeting points where current and potential customers will most value the opportunity to go digital? It is also important to think about how to streamline and automate your own core processes.
e-commerce-food-gym
Integrations are the engine of digitalisation
How systems work together and whether information flows seamlessly between different systems is critical to building digital entities. This is where high-quality system integration plays a big role. While the digital services mentioned above are present and visible in everyday life, integrations are the invisible driving force behind digitalisation, making services and applications work.
No wonder, then, that in recent years, integration has increasingly leapt from under the bonnet to become an area of business interest. In addition to service performance, data is at the heart of the development of new services, and integrations have a direct impact on how quickly and flexibly the data accumulated in systems can be used by the business.
Open interfaces, or APIs, enable data to be shared in a controlled way within an organisation or outwards to third parties, speeding up the development and launch of services and enabling new types of networks and ecosystems. For players in the API and platform economy, integrations and interfaces are the lifeblood of business and at the very heart of strategy.
Mobile apps, websites and other services are powered by different underlying processes and systems. Apps need data on stock balances, piece counts, production steps, shifts, supply lists - in other words, all the data that is generated by the core processes of the business and chewed up by core systems such as ERP. So the customer interface services, the underlying systems and the data that flows between them must work as a seamless whole for the services to work as intended. If entries are not stored directly from mobile to the hourly entry system, or if the online store displays stock balances incorrectly, the value of the service will be limited.
Sometimes, when digital development starts at a fast pace, it is discovered that the underlying systems are outdated or otherwise do not support modern application development. In such cases, system changes are needed to speed up and facilitate digital development.
Erppi is not a value in itself, nor a lonely island on an organisation's IT map - it is a platform for digital business. In the same way, a mobile app is, at its best, the easiest interface to ERP.