Real estate investment can be a lucrative way to generate passive income and gain capital. There are several approaches to real estate investment, each with its own unique advantages and disadvantages. Let's take a look at four fundamentally different strategies and compare their profitability.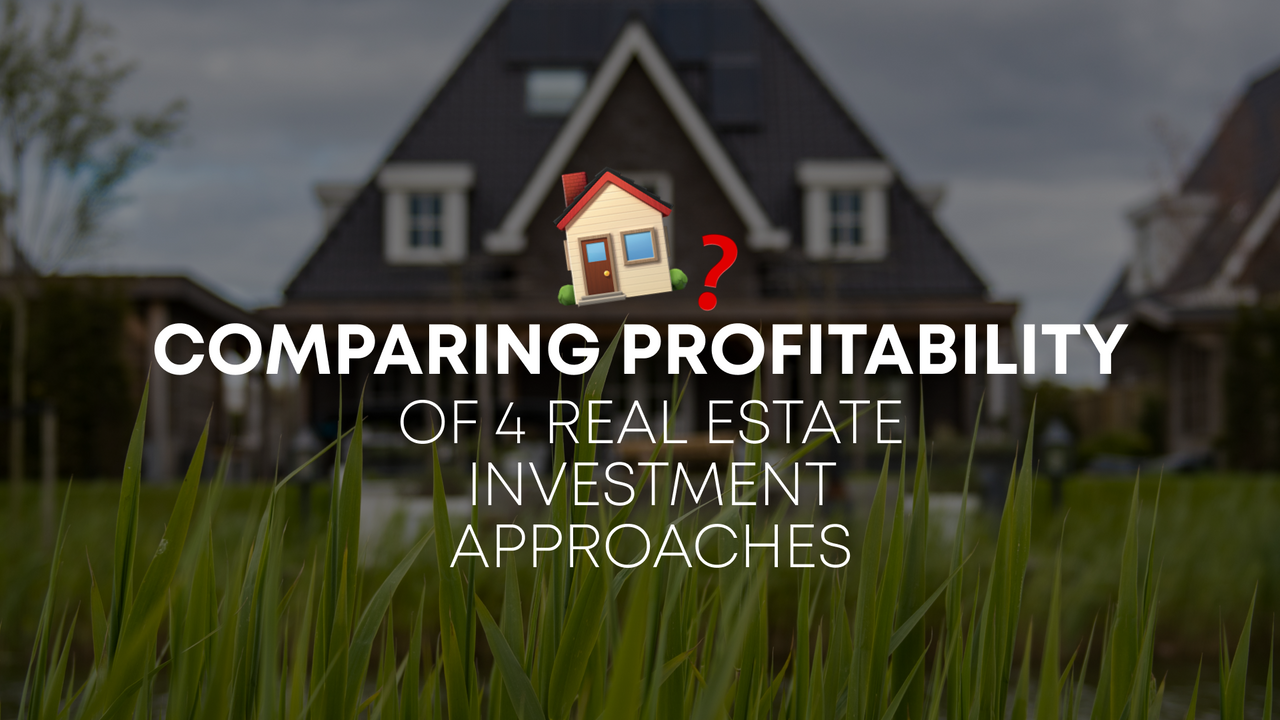 Renting Out
One popular approach is to purchase a property and rent it out. This can provide a steady stream of rental income, but it also comes with the responsibilities of being a landlord, such as finding tenants, managing the property, and maintaining the property. The profitability of this approach depends on various factors such as location, property type, rental rates, and occupancy rates. But you are here to compare the numbers, right?
Propertyloop (UK) says that many consider a rental yield of around 7% to be respectable. LandLordStudio (US) agrees with 7% ROI, but recommends striving for 10%.
Reselling Properties
Another approach is to purchase a property with the intention of reselling it for a profit. This can be a high-risk, high-reward strategy that requires careful market analysis and timing. The profitability of this approach depends on the purchase price, renovation costs, and the selling price. In general, real estate prices normally go up, so this strategy can be profitable in the long term. For example, Eurostat has reported on the dynamics of the EU in 2021, stating that house prices have risen by 30.9% over the last 10 years.
Real Estate Stocks
Investing in real estate stocks is another approach to real estate investment. This involves purchasing shares of publicly traded companies that own and manage real estate properties. The profitability of this approach depends on the performance of the company and the overall stock market. For example, according to MacroTrends, the return of the Dow Jones U.S. Real Estate Index over the past 10 years (2013-2023) was 71,5%
Tokenized Real Estate
Investing in tokenized real estate is a relatively new approach that allows investors to buy and sell fractional ownership of real estate properties using blockchain technology. This approach also provides greater liquidity and accessibility than traditional real estate investments, as investors can buy and sell tokens at any time.
This strategy is relatively new, so it offers much higher returns than traditional approaches. Yield varies greatly depending on the project, but for example, Home Key, a smart house-building business, offers up 73%+ per annum.
Real estate investment offers several approaches with different risk and return profiles. While each approach has its own advantages and disadvantages, investing in tokenized real estate can provide greater liquidity, accessibility, and diversification compared to other approaches. Anyway, you should evaluate their investment goals, risk tolerance, and market conditions to determine the most suitable real estate investment approach for them.