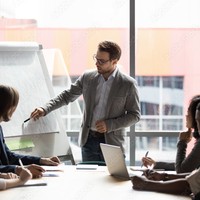 Follow
I'm a Product Manager with experience working cross-functionally with business roles (e.g. Marketing, Finance, Sales), technical roles (e.g. Backend and front-end engineers, data scientists) as well as designers and UX researchers to bring products to life that make our users' problems and pain-points go away!
I have experience working with Web and Mobile products, AI and Machine Learning - There's something really fascinating about using data to try and predict the future. I'm a big believer
Show All

that every model should be thoroughly thought from an AI Ethics point of view.

Building a better product development process to help team to make informed decisions with their third party marketplace.

Experienced in developing, executing, and monitoring marketing programs across a variety of channels.